Birthplace: Ipswich, England.
Son of Henry Cavendish & Blanche Cavendish Butler, Lisnaskea, County Fermanagh, Northern Ireland.
Killed in Action age 27,Wednesday 14th July 1943, whiile attached 3 Commando.

Extract from the Personal Narrative

"During the peaceful and relative tranquility of our stay in Algeria, only too often were we reminded that the Grim Reaper was still about his deadly work.

In late July we learned of the second NIH death in Europe, Major J.H.C.Crichton on May 23rd 1940 being the first. Lieutenant A.D.C.Butler who transferred at his own request to 3 Commando, was Killed in Action on Wednesday, 14th July, three days after the invasion of Sicily had commenced. He is buried in the Catania War Cemetery, Sicily.

One week later, on 21st July, Trooper H.J.Wright died of burns he had received while in action 4th March 1943. Also in the same action was a fellow crew member, Corporal E.A.Harrison who died on Tuesday, 5th October. They are both buried in Bône War Cemetery, Algeria.

We were all saddened to learn that Lieutenant Geoffrey Hutchinsonhad been killed in a road accident, on Monday 1st November, while on his way back to the Regiment after being hospitalised in Constantine (now Qacentina) Algeria. He is buried in Medjez-el-Bab War Cemetery, Tunisia.

Later, on Sunday, 21st November, death also came to Trooper F.T.H.Leach. He too is buried in Bône War Cemetery.

Thus the Grim Reaper had taken six more lives for us to mourn."
The bridge where, on the final day of a tenacious defence by 3 Commando,
Lt. Butler lost his life.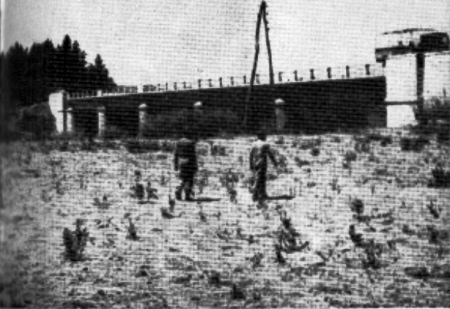 Photograph taken a few days after the battle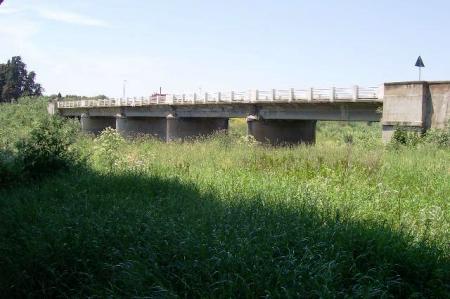 The bridge as it is today.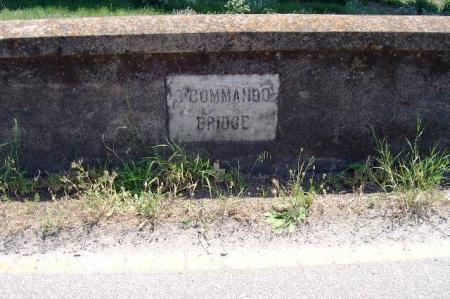 The commemoration stone placed on the bridge on orders from Montgomery.
My thanks to Colin Hotham for photographs taken while visiting Sicily, 2004.